City Works: Provocation for Chicago's Urban Future exhibition at the City of Chicago's Cultural Center – Expo 72 Gallery (72 E. Randolph Street, Chicago), May 24 – September 29, 2013.
City Works was previously exhibited at the 13th International Architecture Biennale in Venice (2012) and has now returned to the city of its origin. The exhibition re-envisions a series of urban environments that are typical for Chicago in order to examine alternatives to the way architecture engages the city. In collaboration with David Brown, Studio Gang Architects, Stanley Tigerman, and UrbanLab / Sarah Dunn & Martin Felsen (who each produced one large models 12'x3′), the installation sets out to find potentials for spatial, material, programmatic, and organizational invention within the city. The four models are surrounded by a 160′-long panorama that shows a visionary city … a drawing entirely composed of historical unbuilt visions for the city of Chicago (created by Eisenschmidt and his team at the Visionary Cities Project). In addition, an iPhone app links the visionary drawings on the wall to the existing city by locating the different schemes and presenting vital information about the projects. Over the duration of the exhibition, the models will travel throughout the gallery, visit the different parts of the city's visionary history, and, finally, come together to create a new collective project of the city – one that is intended as Provocation for Chicago's Urban Future.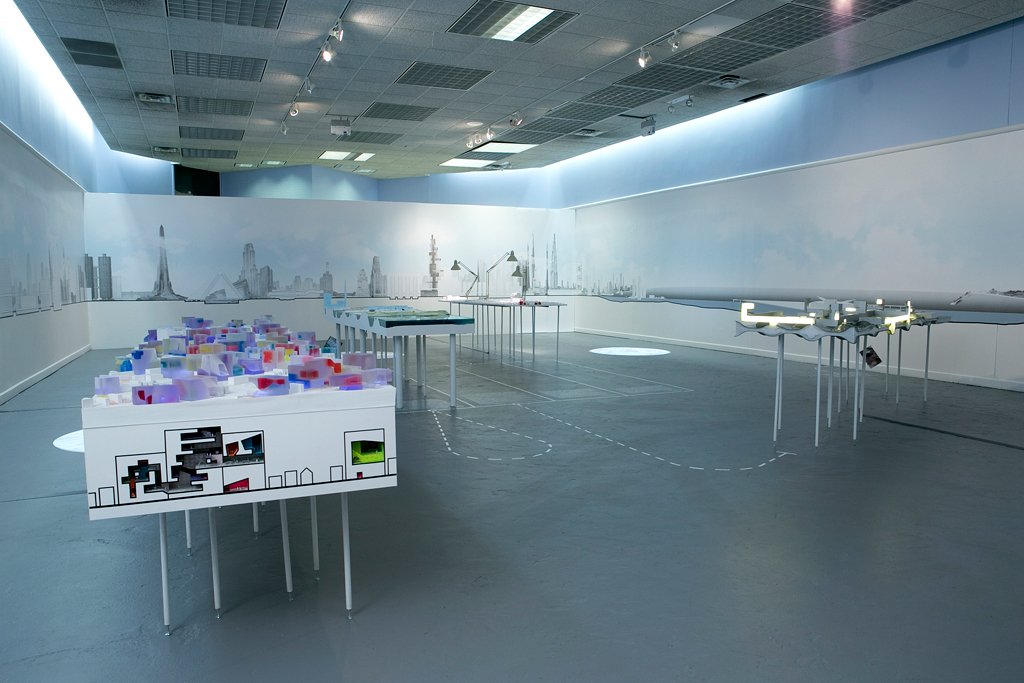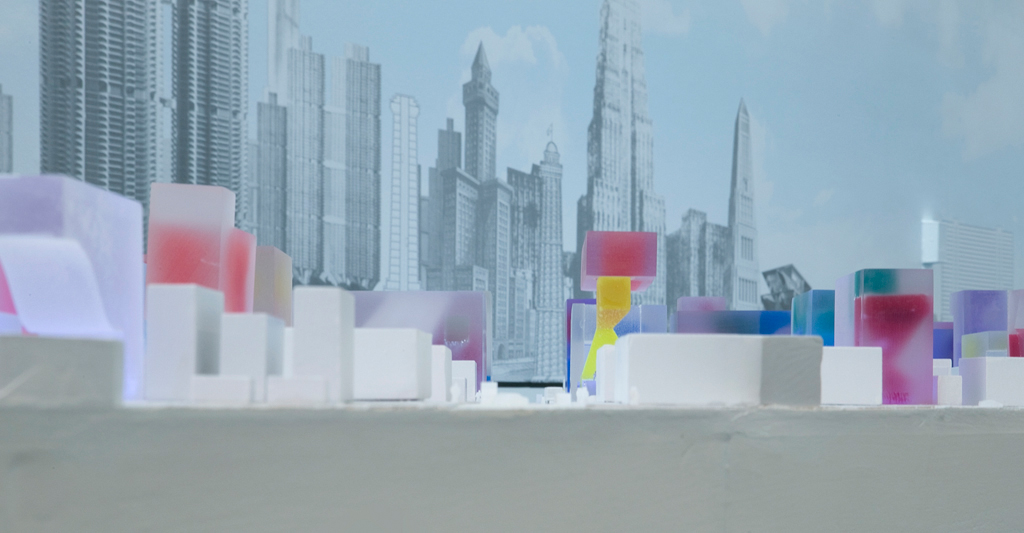 Photo credits: Clare Britt
Press Coverage:
"Chicago Has Loads of Surreal, Never-Built Visionary Architecture," The Atlantic
"City Works Envisions Chicago's Dreams and Nightmares," The Architect's Newspaper
"City Works Exhibit Presses the Issue of Our Urban Potential," Gwendolyn Purdom for Curbed Chicago
"Phantom Chicago: See the City's Unbuilt Visionary Projects," DesignBoom
"City Works: Provocations for Chicago's Urban Future," ArchDaily
"Alexander Eisenschmidt Explores Phantom Cities," UIC News
"How I Built a Better City by Going Off the Grid," Lynn Becker for Architecture Chicago Plus
"Direct from Venice! Provocations for Chicago's Urban Future," Architecture Chicago Plus
"City Works for Chicago's Future," Chicago Architect
"Chicago's Cutting-Edge, Never-Built Architecture," Chicago Business
"Back to Never Land: Chicago Exhibition Honors Remarkable Never-Builts," Archinect
Special thanks to: The City of Chicago, Department of Cultural Affairs and Special Events, for presenting and supporting City Works.
The exhibition was originally made possible by the generous support of: AIA Chicago, Chicago Architecture Foundation, College of Architecture and the Arts at the University of Illinois at Chicago, College of Architecture at the Illinois Institute of Technology, Driehaus Foundation, The Graham Foundation for Advanced Studies in the Fine Arts, Office of the Vice Chancellor for Research at the University of Illinois at Chicago, PolarGreen LLC, and School of Architecture at the University of Illinois at Chicago.