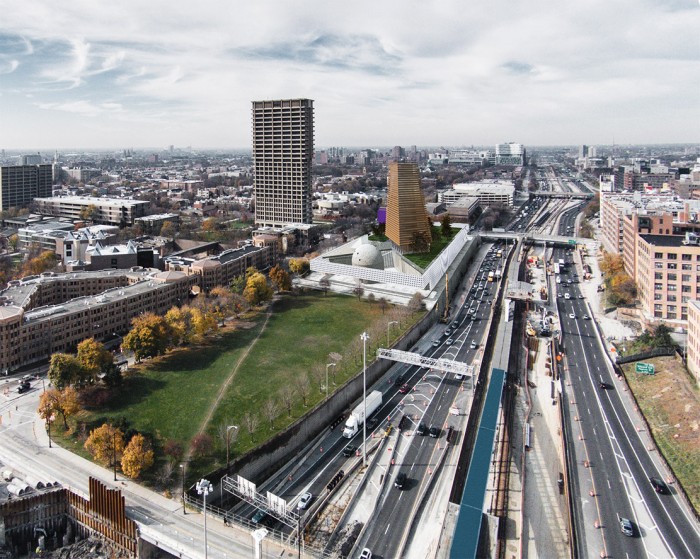 Urban Design for the Visual + Performing Arts Center at UIC, 2016 (competition finalist).
The "Arts Campus," a nexus between the different departments of the College of Architecture, Design and the Arts as well as between UIC and the city. As such, the architecture of the center is more than just a building, it becomes an urban platform on which the different constituencies meet. It houses a concert hall, theaters, performance spaces, rehearsal rooms, an art school, gallery spaces, and offices.
A collaboration with Sam Jacob Studio (architecture), Alexander Eisenschmidt (Urban Design), Misha Leiner / CoDe (graphic design), Webb Yates (engineering).
The proposal is conceived in three parts, each with their own role and character drawing on specific "Chicagoisms." Arranged as a new composition, the building articulates itself as follows:
1. The ground level "sidewalk"/ "plaza" flows seamlessly between city and campus, and proceeds into the interior as an expansive urban carpet.
2. The "block" relates to the buildings immediate context through its massing and acts as connective tissue between the ground floor pavilions and the departments above.
3. The "skyline" level is conceived as a series of figural pavilions that collage themselves into their urban context. These are architectural actors that perform to both campus and city. The form of the main concert hall is excavated from the section of Adler and Sullivan's Auditorium building. Here it is recast as an object visible to city.
Alexander Eisenschmidt and Sam Jacob
Press:
"Dual Exhibitions Explore the Future and Past of the University of Illinois at Chicago," The Architect's Newspaper, by Matthew Messner, August 12, 2016.
"Back to the Future: Visualizing the Arts at UIC," Chicago Gallery News, August 18, 2016.